Renewable

Ohio Oilheat is Renewable
According to the 2012 Census of Agriculture, more than half of Ohio's total land area (26,151,380 acres) is farmland (13,960,604 acres). And the vast majority of that land is what the U.S. Department of Agriculture classifies as "prime farmland," the most productive and fertile land in the country. Ohio is farm country, and because corn and soy are our state's leading crops, it's also biodiesel country. 
But what does all this have to with Oilheat and its renewability? Well, more and more of today's Oilheat supply is actually Bioheat® fuel, a clean, green blend of ultra-low sulfur heating oil and renewable biodiesel! Oilheat already produces near-zero harmful emissions, and with more and more ultra-low sulfur heating oil and Bioheat® fuel entering Ohio's fuel supply, our state is going even greener.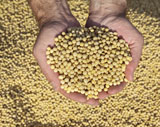 Ultra-low sulfur heating oil (ULSHO) improves heating system efficiency, lowers maintenance needs and reduces emissions.
Bioheat® fuel blends up to B20 (20 percent biodiesel) can be used with existing Oilheat systems to achieve performance equivalent to, if not better than, conventional heating oil. Bioheat also costs about the same as Oilheat and has a comparable BTU content, which means it burns efficiently.
Bioheat® fuel supports Ohio's soybean trade, a $2.6 billion industry that employs 26,000 farmers in our state.
For more information about this clean, renewable energy source, talk to your local Bioheat® fuel dealer or visit one of these valuable online resources: