EFFICIENT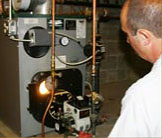 Ohio Oilheat Equipment is Efficient
A gallon of low-sulfur heating oil produces 138,500 BTUs of heating energy. That's a very big burn for your buck, and it's one of the main reasons why Oilheat is known as an efficient heating source. Another reason: today's high-efficiency Oilheat systems. Thanks to advancements in oil-burning technology, Oilheat systems are now more efficient than ever. Your Ohio Oilheat dealer can help you get maximum efficiency out of your fuel and your furnace or boiler. Here are some ways they can help you save: 
Today's ENERGY STAR®-rated oil-fired furnaces achieve AFUE (annual fuel utilization efficiency) ratings as high as 95 percent. ENERGY STAR-rated oil-fired boilers achieve ratings of 87 percent. Depending on how old your existing equipment is, an upgrade to one of these systems can improve your fuel efficiency by 30-40 percent. 

Additional energy savings can be achieved by having a programmable or smart thermostat installed. Other options include smart burner and boiler controls. These units cost much less than a complete upgrade, but can still reduce your energy usage by 10 percent or more in some cases.
To ensure optimum efficiency, the U.S. Department of Energy recommends that all home heating systems receive annual maintenance. A tune-up, performed by a qualified Ohio Oilheat contractor, can improve your equipment's efficiency by 5 percent or more.
If you'd like to find out more about advancements in heating system technology, visit our Oilheat Equipment page, where you can read all about oil-fired furnaces, burners, boilers and water heaters.
For more energy-saving solutions, check out these Conservation Tips.